Speaker Profile: Mr. Manish Phadke, Training and Placement Officer at NCERD's Sterling Institute of Management Studies, Nerul Navi Mumbai. Sir has 25 years of experience in field of finance, accounts, management and Placements. Sir has been associated with various panels of Interview. Sir has organised various Career Fair and delivered talk on Placement at various reputed institutes. Sir has done various certification on personality development.
Date
Platform
Co-coordinator
Department

25th June, 2020
Google Meet
Prof. Aamir Shaikh
Electrical Engineering

Schedule:
Time
02:00 p.m. to 02:15 p.m.
02:15 p.m. to 03:45 p.m.
03:45 p.m. to 04:00 p.m.

Programme
Inaugration
Lecture
Vote of Thanks

Expert Talk: The guest speaker took over the session with interaction of students in order to make aware the seriousness of corporate culture. The session started with need of placements and planning. Sir has explained the true meaning of group discussion and what are challenges faced by students studying in remote location. Sir focusses on confidence as key role in placement.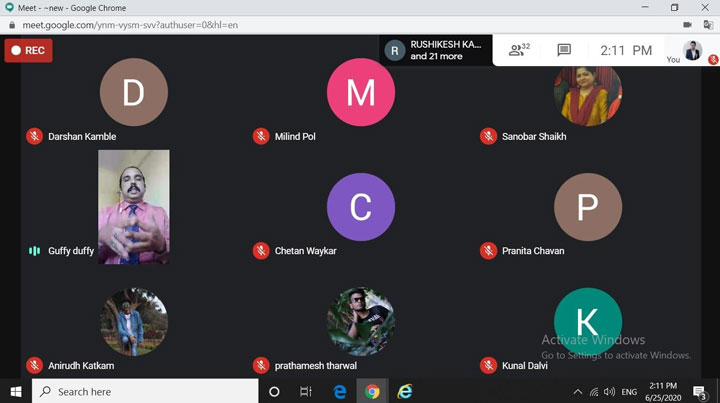 Attendance of Students recorded on Google Meet
Explanation by Expert during Session
Sir has explained how to overcome shortcomings. Hurdle can be overcome but Barrier cannot, hence students should work on the areas where they can easily overcome their negative thinking. Students asked questions on current placement scenario in Covid 19 situation whose answer was given by speaker. Prof. Ronita Pawn Mam concluded the session with vote of thanks to Speaker and Heads of Institution.