Mr. Swapnil Sansare is Chief Innovation Officer in Divide by Zero Technologies, a 3D printing Technology Company, which manufactures and also delivers services related to additive manufacturing.
Date
Platform
Resource Person
Coordinator
Department
9th August, 2021
Google Meet
Mr. Swapnil Sansare, Chief Innovation Officer, Divide-by-Zero Technologies
Dr. G. V. Patil, Mr. K. S. Anish
Mechanical Engineering
Mr. Swapnil explained the scope of 3D printing and also illustrated various research scopes of this technology. Divide-by-zero has provided many 3D printing solutions to reputed companies in automobile, defense and manufacturing field. The company holds various patents in national and international level too. As many as 15 faculty members attended this interactive and interesting webinar.
Mr. Swapnil Illustrating 3D Printing usage in Agile Design & Material Flexibility
Mr. Swapnil Illustrating 3D Printing usage in Design Optimization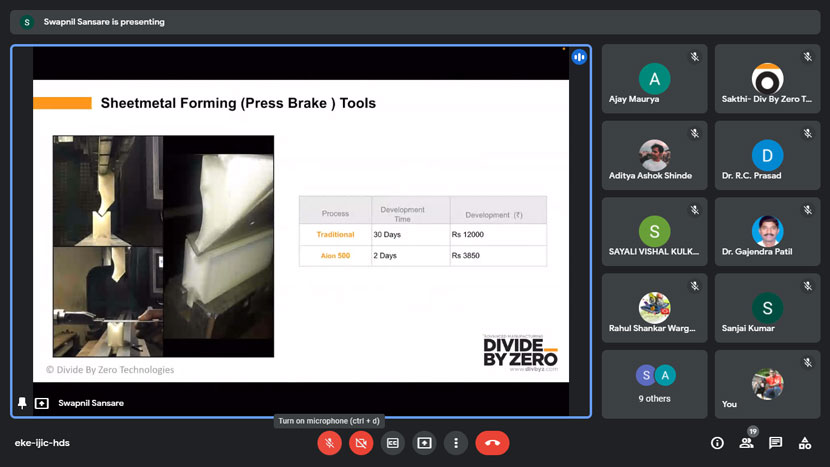 Mr. Swapnil Illustrating 3D Printing application in Sheetmetal Forming
Mr. Swapnil Illustrating 3D Printing application in Automobile Sector
Mr. Swapnil Illustrating 3D Printing application in Tooling-Casting
Mr. Swapnil Illustrating 3D Printing application to make a Bicycle