Overview of the Company:
Adani Dahanu Thermal Power Station
Adani – Dahanu Thermal Power Station (ADTPS), consisting two units of 250 MW, is one of the best power generation plants in the country, which commenced its commercial operations in January 1996. Recognized with innumerable awards, this power plant is known for its distinctive features that set it apart from others in terms of technological innovation, superior performance and continuous sustainability for a longer period. ADTPS is located around 120 km north of Mumbai along Mumbai-Ahmedabad rail line.
Theme
Date
Target Audience
Total Students
Event Organiser
Department

Industry Exposure
1st October, 2019
BE and TE Mechanical Students
49
Prof. Pravin Dahalke
Mechanical Engineering

The plants utilise a mix of Indian washed coal and imported coal as fuel. The general blending ratio is 80 : 20. The indigenous fuel is received from SECL (Korba) and also imported from various countries such as Indonesia and South Africa among others.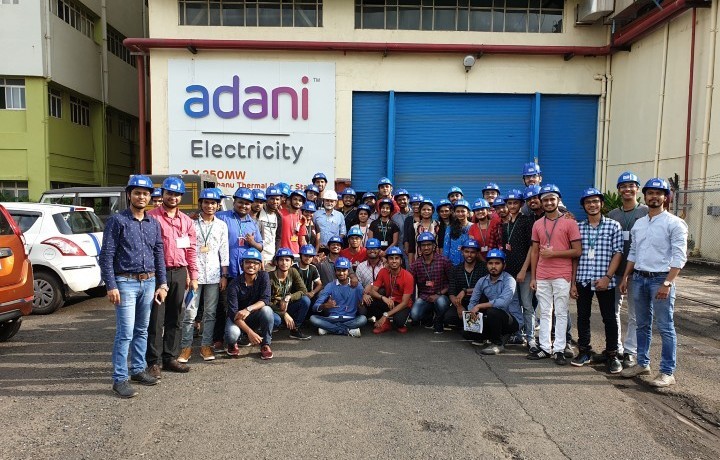 Adani Thermal Power Plant
Overview of the plant
Adani – Dahanu Thermal Power Station has implemented integrated management systems (IMS) in its processes and is certified for quality management, environment management, occupational health and safety assessment studies, social accountability management, information security management, energy management and accreditation for ADTPS coal testing laboratory.
The first power station in the country with two units of 250 MW.
Commercial operation started in January 1996.
Employs a blend of washed coal and imported coal as its source of fuel.
Recognitions:
ADTPS has received Copyright for three innovative works from Copyright Office of Government of India, New Delhi.
Reduction in Overhauling Time – Implementation of Work procedure has ensured considerable reduction in overhauling period to 15 days. Thereby saving of Generation revenue equivalent to at least 10 to 15 days.
Energy Deviation Report – An effective tool for energy consumption monitoring and optimization. This helps operation personnel to utilize energy efficient equipments to cater economical generation.
Improvement of Coal Mill Performance by Auto Operation – Software developed by ADTPS team by studying the correlation between air and coal flow. This logic has helped to avoid undue variation in load and other process parameters even during very heavy rain.