As per the culture of Pillai HOC College of Engineering, Department of Computer Engineering organizes various technical events for aspirants assembling with various interest in the field with a very high competitive spirit to participant and with the strong determination to include their achievements & accomplishments to their resumes.
15th March, 2018
Computer Engineering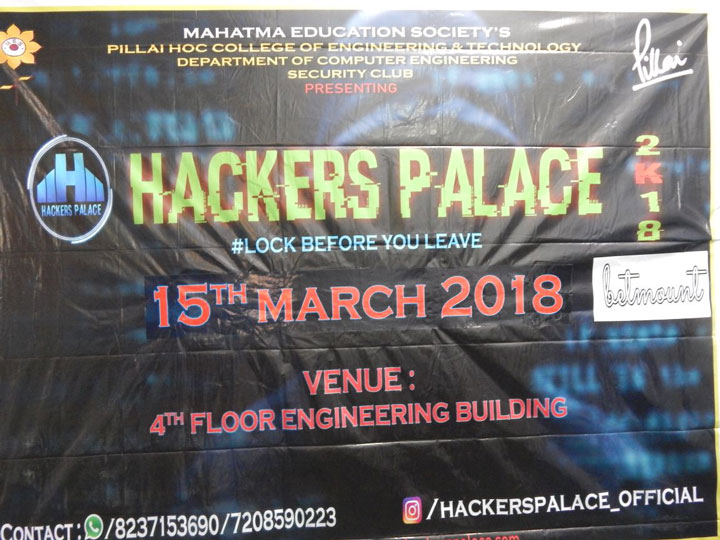 These events are organized every year with the objective to provide platform for the students to showcase their talent with a competitive spirit. For the preceding academic Year 2018 we had organized an event known as Hackers Palace with the same enthusiasm and determination among the new set of student coordinators, student volunteers and faculty coordinator on 15th March, 2018.
Hackers Palace event was conducted under the ACM chapter. The fest executed with a total of 6 events planned and organized at its best of quality. Focusing on the types of events to include in the fest was decided by fest coordinators keeping the interest and need of the engineering student into consideration, with little emphasis on the fun full events behind the scene. Student co-ordinators were from SE and TE of Computer Dept. This event was an inter college event. Participants from various colleges were invited for the competition. Twenty eight people participated in the competition.
Hackers Palace contain 6 categories(including sub-categories):
Data Master
Mr. Protocol
Mr. Hacker
Code Geek

Web Development
Random Language
Treasure Code Hunt
| Event Name | No. participant |
| --- | --- |
| Data Master | 12 |
| Web Development | 2 groups of 2 members each |
| Random Language | 8 |
| Treasure Code Hunt | 5 groups of 2-3 members each |
| Mr. Protocol | 1 |